Three years ago, we started Prescience Decision Solutions – we formally got incorporated on March 29th, 2017. We had planned to celebrate the big day with all our employees, customers and all our friends and well-wishers but the current lockdown caused due to COVID-19 has paid put to our plans. Hope things get back to normal soon!
Why did we get together to set up Prescience?
Both Shiva and I are sincere believers in the power of data analytics in helping the businesses to make informed and quick decisions, based on the insights gained through data analytics.
What we observed and experienced was this: the great buzz about Big Data and Data Analytics has resulted in many businesses to try multiple solutions. At the same time, the fast-changing business environment, the rapid growth of data and a lack of clear understanding of how to harness the power of Data Analytics has led to disenchantment towards these solutions. In addition, the technology forward approaches of the product companies in this space are adding to the problem.
"The products are too rigid to handle the actual problems faced by the businesses."
We always believed that a pure software-based approach will not be able to provide all the solutions; rather, augmenting the human mental powers and insights by quickly deciphering patterns, trends and inferences, will. We strongly believe that we need to take a business-backward approach:
Understand the business problem
Convert it into a data science problem
Solve it
Convert the solution from mathematical to business terms so that business teams can work with it
Repeat
Our journey over the last three years has been an engrossing one, as one would expect in a new venture. We have had exhilarating moments as well as downright depressing ones.
We spent our initial days in either Starbucks or Matteo Coffee on Church Street (if you have a portable Wi-Fi hotspot, then the latter is a better option). From there, we graduated to working out of the offices of two companies run by our friends, one in Cunningham Road and the other one in HSR Layout. And our first employee was a brave soul from Punjab (where else?) who joined us at a stage when we didn't even have an office! It was only after five months of our existence that we moved into our own office in Jayanagar. By that time, we already had started working with our first customer and our second employee had joined us.
We have truly been lucky to work with customers who have always been appreciative and supportive and who have treated us as valuable partners in their data analytics journeys and not just vendors.
The same goes for all our employees who have been passionate about their work and have always been ready to take up additional challenges to ensure that we are able to meet our commitments.
We have also been tremendously fortunate to have some great partners who helped us with support functions (finance and recruitment, for instance) as well as multiple friends and well-wishers who have enthusiastically guided us and helped us to open doors and win deals at many places.
While the scare of COVID19 has engulfed the entire world today, this too shall pass, just like similar scares in the eras before. We move ahead with a song on our lips and sincere hope in our hearts that we will soon be able to recite from Robert Browning's poem again:
The year's at the spring
And day's at the morn;
Morning's at seven;
The hill-side's dew-pearled;
The lark's on the wing;
The snail's on the thorn:
God's in his heaven—
All's right with the world!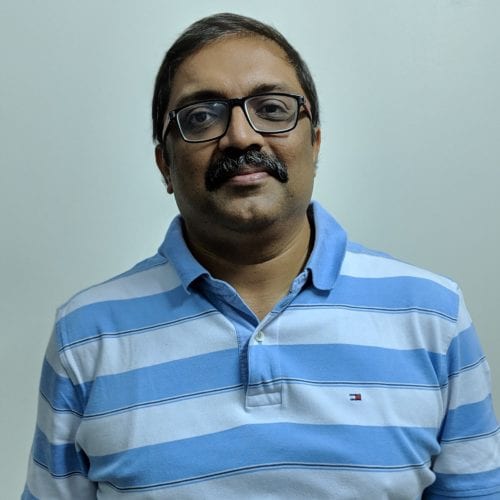 Anirban is a veteran in the IT space with 20+ years of experience in working with customers and providing them solutions and products that meet their needs. His current passion is to enable enterprises to derive value out of their data. His idea of relaxation is reading books or catching up with the news from the world of football.