One of the most important questions in business is, "What should be the price of our product or service?" Let's assume the said product or service to be a product for ease of referencing for this blog. Business managers need to decide the "right" price of their product so that a customer can make an informed buying decision. That price should help the business to maximize their revenues while also meeting the profitability targets. Needless to say, it should also deliver value to the customer.
Pricing strategy is a difficult one to crack because it is often not apparent how much the target customers are willing and able to pay for a product. This holds true for existing as well as new products that might not have even hit the market. In fact, it is more important to arrive at a pricing strategy for a product that hasn't been launched, as the historical data for that particular product does not exist. But what you might have, is the historical pricing and sales data about similar products. That's a good data-set to work with.
Companies formulate their pricing strategy based on two components:
Price structure
The structure can be uniform or a differentiated one based on customer segmentation, seasonality, geography, sales channel or other various factors.
Price level
The actual dollar number that the product would sell for
Business executives have been leaning on data analytics to help determine both these elements in their pricing strategy. Advanced data analytics can now help them utilize huge data sets – both internal and external – to get a better handle on pricing. They are now able to access insights quickly, instead of waiting for weeks, on important aspects such as:
Products, customers or regions to focus on and bring in differential or standardized pricing for them
Faster feedback that helps them to assess the effectiveness of new pricing decisions and bring about tweaks, as needed
Scenario modelling on pricing, promotions, and deals
At Prescience Decision Solutions, we have helped several of our customers to decide the "right" price of their products, based on different kinds of pricing analytics, some of the which are given below.
1. Price Elasticity Analysis
We conduct the price elasticity analysis to help businesses find out the suitable price bands for the desired volumes and profitability. This is achieved by analyzing various factors such as market conditions, changes in competitors' pricing, inventory availability, and customer demand.
For one of our customers, we carried out a detailed price elasticity analyses which helped them to determine the prices of their products dynamically. Not just standardized pricing, but dynamic pricing based on various factors, including the customers' buying behavior.
In addition to this, we also perform Cross Elasticity Modelling for some of our customers to help them understand how their end-customers might respond to changes in pricing by their competitor brands or related products in the market.
2. Dynamic Pricing and Price Optimization
Getting the pricing right is very important for any business. It should neither be so low that money is "left on the table" nor so high that sales are needlessly lost.
We build dynamic pricing models and price optimization models for our customers to drive sales while also maintaining the target profitability. We consider several variables such as customer segmentation, purchase history, competitor pricing, and inventory, among others, to determine the best prices. Models are built to tailor pricing for target customer segments by simulating how they will perceive and respond to price changes.
Our advanced models identify the initial pricing, promotional pricing, and markdown pricing to maximize profitability. They help businesses to predict how their customers would react to different price points and price changes.
We have built dynamic pricing and price optimization solutions for multiple customers. For example, for an e-commerce marketplace company, we help them determine the levels of various fees that must be charged for different types of sellers.
3. Promotions Analysis
We use advanced data analytics to help business users to customize their sales promotions, including price discounts, more effectively. The promotions can be targeted towards particular customer segments, across time periods, across channels, etc. to provide better returns from the same investment in the promotion.
We helped one of our e-commerce customers determine better ways to structure the discounts to improve the lift within the given budget.
We created buyer clusters based on various factors and determined their propensity to buy. Based on it, we created an ML-based approach to distribute more promotional discounts towards customers with a lower propensity to buy. We also provided initial analysis of the lift expected from the promotion. This approach helped the e-commerce customer to make optimal usage of the promotions budget to get better lift instead of providing the same discounts to all buyers and sellers.
4. Price Gap Analysis
Customers can easily compare and contrast alternatives before purchasing a product. This can be the price of the same item at different retailers – online or offline, or price of competing products. We use automated techniques to track competition pricing that help our customers to quickly monitor the prices and take appropriate actions.
For one of our e-commerce customers, we have set up a mechanism to track competitors' prices and inform the executives of these prices and their movements through dashboards. This has helped the executives to react to competition's actions faster.
Pricing analytics is becoming important for all types of industries. With the easier availability of various data points, it is now possible for companies to have a well-defined pricing strategy that can be executed in a nimble and agile manner.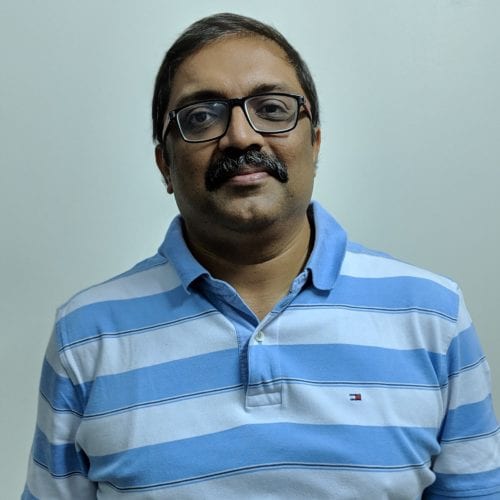 Anirban is a veteran in the IT space with 20+ years of experience in working with customers and providing them solutions and products that meet their needs. His current passion is to enable enterprises to derive value out of their data. His idea of relaxation is reading books or catching up with the news from the world of football.