Few weeks back Anirban wrote about how we started three years ago and one of the key premises that he mentioned was our business-backward approach to analytics and data science. It, quite literally, means looking at the business problem in totality without worrying about what it takes to solve it or what capabilities we, as a team, have or what we want to achieve.
Business problems come in various shapes and formats – to find an effective solution for the specific organizational context (for instance: strategy, culture, what impacts performance, etc.), data, technology landscape, processes and the environment that the organization works in, requires thinking beyond the obvious. The ability to execute a strategy driven by this vision to develop the perfect solution is a function of the following:
How we develop the solution frameworks/Intellectual Property
How do we structure the client conversations
How we structure our team from a hiring and skilling perspective
How we work with the ecosystem
Solutions and Frameworks
We've always envisioned an IP-oriented organization with our offerings based on a select few IPs or solution frameworks. These frameworks are then brought to solve real-life business problems for the client in their environment to provide an effective solution to their specific challenge. We have always thought about the effectiveness of the solution as paramount than building a sophisticated solution with zero-touch deployment.
Our approach to solution design and execution primarily comprises of the following:
A strong point of view and algorithm based on best practices
Loosely coupled modules or components that can be integrated easily into the technology environment at the client's end
Tool-agnostic with the ability to work with a variety of technologies. For example: Supporting both traditional databases as well as NoSQL, eventually deployable on multiple cloud variants.
Achieving a 50-70% fit from the word go, instead of trying to build for 100% fitment, which usually is the biggest reason for project delays
With the understanding that deployment for the specific client scenario is going to change due to the context and data, we have operated with the philosophy of building the core components and ability to integrate quickly through intelligent design.
Structuring client conversations
We have always steered away from conversations that revolve on the premise of access or experience on a specific tool or technology, while bringing back conversations to understanding the business problem that we are trying to solve. If the business problem can be solved by putting together a spreadsheet model, it doesn't warrant a complex heavy-duty modelling software purchase or expertise. Having such conversations requires domain expertise, understanding of the client's context – budget, time to market, expertise available etc. – and deep technical understanding and the frequently uncommon common sense.
Building the team
Building the team at a start-up is always challenging due to reasons a varied as absence of a brand name that talks to the aspirational human quotient, deep pockets, evolving business and technology landscape, trodden career paths to showcase and whole lot more. It's not easy!
With a less than industry average attrition rate, stellar record of delivery, top notch talent of (only) experienced hires, we must be doing something right. We look at business fitment as a key trait, in addition to what we've always looked for:
Business acumen
Problem solving ability and analytical skills
Technical depth in core areas – SQL for Analytics, Statistics for Data Science, Attributes of Common Sense (:)) – and some more
We prioritise potential over skill and that has helped us move quickly in this ever-changing field. Our approach has also worked for us in keeping our talent engaged, motivated and more importantly, nimble.
Power of the ecosystem
We have always believed that we don't work with organisations – we work with people who build organisations. This belief brings with it an approach that's deep-rooted in human behaviour, the trait of working with a community of people. We know and understand that not every challenge can be solved by us alone and that's where we have leveraged the ecosystem of partners and talent available outside of Prescience to engage with our clients effectively. Partners range from hunting the right talent, deep expertise in areas that we've not focused on to build a talent arrow-head or those who can lead client conversations while we deliver in a white label model.
One important ingredient of frugal start-up success is the no-ego/no-shame approach to bring the power of the ecosystem to run the start-up's engines.
This helps us to keep a single-minded focus on client needs and respond to their business challenges effectively.
Having laid the foundation in last three years, we look forward build on the same and leverage our IP and solutions to grow at a fast pace in a non-linear model.
Cheers!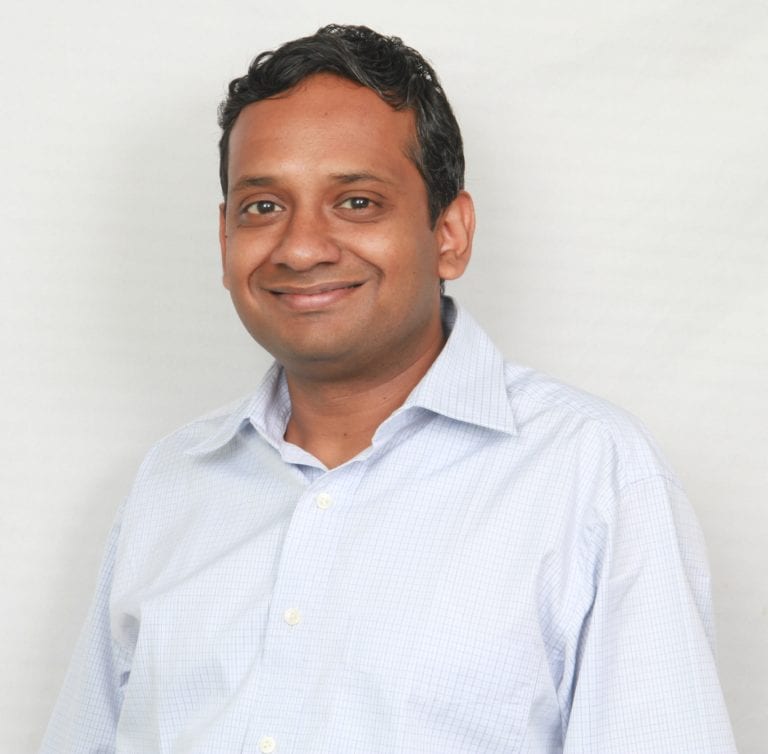 Shiva is a keen follower of scientific trends and is an Asimov fan. Believes solid execution is key to the success of any strategy and is focused on building a world class data science team at Prescience. Has a B.Tech from IIT Delhi and MBA from IIM Lucknow with 20+ years of experience in the technology space.